Artist J. Chris Johnson inspired by musician John Calvin Abney's new album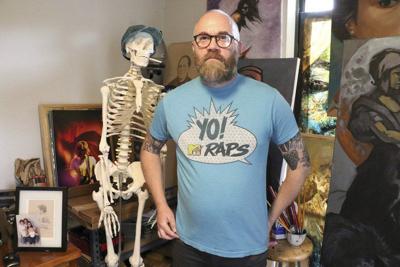 Doug Hill / For The Transcript
Oklahoma red dirt musician John Calvin Abney shared his new LP with Norman artist J. Chris Johnson long before its official September 27 release. The pair are friends and both are rooted in the music and arts scenes here. Abney has resided here at times during his career that's involved intensive touring for over a decade. Johnson is raising a family in Norman and paints in a northwest side studio. His spouse Marissa is a noted Norman music scene photographer. When Johnson heard Abney's latest disc "Safe Passage" (Black Mesa Records) it struck a chord.
"It started out as just a discussion between me and John," Johnson said. "I was wanting to switch styles again and had this idea that I wanted to paint concept art for an album that didn't exist."
Johnson was working on a painting from a photograph that Abney had provided. It was a picture Abney's grandfather had taken when he and a brother were children.
"It sprung from that and I was telling him about this concept art idea. Then the thought was, why don't we just do paintings from your album," Johnson said. "He sent me a link to (album) 'Safe Passage'. I listened to it and would paint what I felt. It was cool because it's a very visual album. Listening to it makes you feel like you're on a road trip."
"Safe Passage" is ten tracks that Abney describes with his typical joyful outlook on life.
"These are the most hopeful songs I've written yet, and I hope they bring a kind of comfort to anyone moving down their path towards truth and happiness and safety for themselves and those they hold dear," Abney said.
The musician's reputation in Norman is one of an admirable fellow who is a treat to collaborate with. Song titles include, "I Just Want to Feel Good," "Kind Days" and "Soft Rain After All." Johnson did a painting for each of the ten original compositions.
"John is honest," Johnson said. "It's not commercial and he's not doing the lowest common denominator lyrics. When John writes something, it's from him. And he's a brilliant musician. 'Safe Passage' is his masterpiece album. I told him I compare it to the Beach Boys' 'Pet Sounds.'"
Johnson first heard Abney perform at downtown's Blue Bonnet Bar. It's a music venue dedicated to providing a voice for Oklahoma musicians. In addition to his solo career, Abney has notably teamed up with John Moreland, Camille Harp and Samantha Crain.
"It was probably eight years ago that I first heard John at the Blue Bonnet," he said. "That's where I met him. I like how my musician friends are trying to paint a picture with sound to give you a mental image. So we're kind of in tune in that same way."